Products
Rechargeable Worklight 24 SMD LED
800 Lumens
#KTI73373 | Other products by K Tool International
Shipping Weight: 8.0 pounds.
Popularity Rating: 1882
Manufacturer Website: http://

Our Price:
$89.50
Tell-A-Friend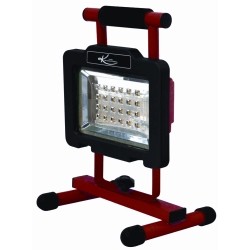 24 SMD LED (800 lumens) Rechargeable Worklight

Heavy duty face plate

Features a ratcheting head

Foam insulated handle

On / Off switch
The face plate is heavy duty that contains the on/off switch on the reverse side. Has a ratcheting head and foam insulated handle. Weight: 4.85 lbs, length: 10.75" width: 9.75", height: 15"